North Croatian Simple Tomato Sauce
nitko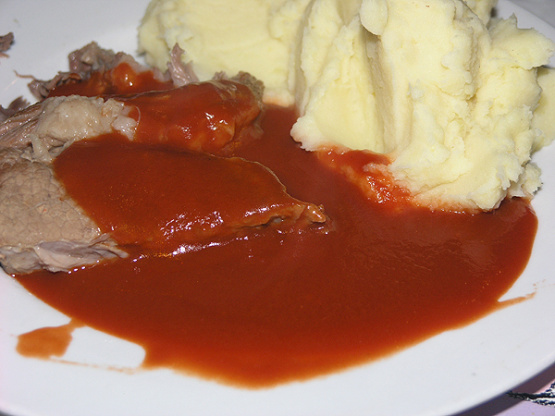 This is continental version of Dalmatian tomato salsa. It is very easy to make and goes excellent with cooked beef and mashed potato. Before Mediterranean food become popular this was my familys standard tomato sauce. If you make this recipe with fresh tomato, first you have to make strained juice; that means: soak tomato briefly in hot water, remove seeds, shave the inside part of tomato skin and blend it. On the other hand, it is easier to buy the can or package of pure tomato strained juice (whatever you have).
Heat oil and add flour. Fry until slight brown (or 1-2 minutes). Add gently some water and make creamy liquid.
Add all tomato juice, salt, sugar and celery sprig. Add the rest of the water.
It is cooked after 20 minutes, but you can cook more if you want (do not burn it). Remove celery sprig before serving.