North Croatian Pork and Sauerkraut Stew (Sekeli Gulash)
nitko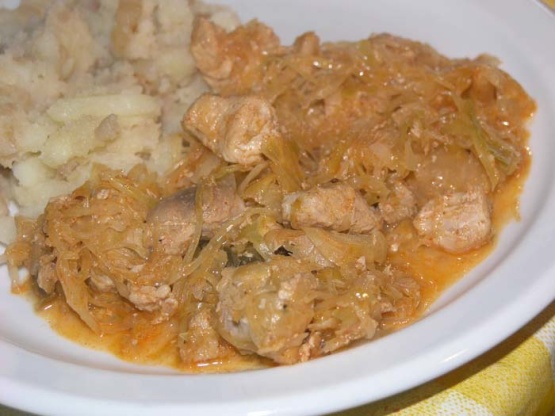 This meal is originally Hungarian but since us Croats and Hungarians lived in one Empire for 400 years gastronomic influences are inevitable. This is also my grandmother's recipe.

If you are thinking this is another pork and sauerkraut dish then think again. It is 100% better with the addition of white wine and paprika (I used smoked paprika here). I wasn't sure about pork neck loin and used boneless country style pork ribs instead which can be found easily here in the U.S and vegetable oil instead of lard. Otherwise, I followed the recipe completely. This dish certainly transports me to your beautiful country nitko and I hope one day we can visit soon. I served this along with boiled yellow potatoes dressed in butter and parsley, fish brodet, green beans, salad and plenty of white and crisp rose wine. Thank you very much for introducing me to your country's taste.
Cut pork meat into small pieces.
Finely slice onion and sauté it on lard until soft. Add meat and continue to sauté it until meat starts to change color.
Add paprika and mix. Add some wine and continue to sauté it.
After 10 to 15 minutes add sauerkraut (sliced), bay leaf, caraway seeds and more wine. Add water and brine (only if you like it really sour).
Cook 30 to 40 minutes on low fire. After 20 minutes add flour (just one teaspon if you want thicker stew) and mix well. Continue to cook until sauerkraut is soft.
Before serving add sour cream and mix.