North Croatian Mushroom Pancakes (Crepes)
nitko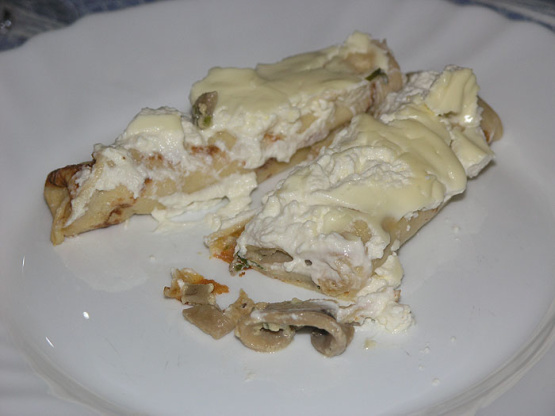 This is typical Northern Croatian supper. It is possible to mix mushrooms, especially with wild mushrooms. I did not give pancake recipe, everyone knows how to make them, and these pancakes are ordinary, simple THIN pancakes. This is the recipe using 12 to 15 pancakes.

I plan to make these, but i think in eastern europe what we call pancakes are more like crepes. (which makes it much easier to stuff :)
Melt butter in a pot and sauté finely sliced onion until soft.
Add sliced mushrooms and sauté it in half closed pot. Season with pepper, salt, nutmeg and very finely minced garlic.
Add meat stock and cook until stock evaporates.
Put mushrooms aside to cool a bit.
Add mixed 200g sour cream, parsley leaves and yolk into mushrooms.
Stuff pancakes and form them into cigars.
Put pancakes into buttered casserole pot only one layer. Cover with rest of sour cream and bake it on 200°C about 35 minutes. Serve hot.