North Croatian Liver Dumplings for Soup
nitko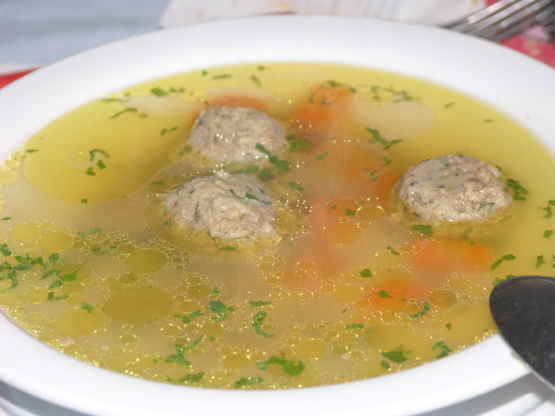 This is one of my favorite soup dumplings. The good thing is that you can freeze surplus and use them later for another meal. It can stay in refrigerator about 3 months at -20°C. The procedure with frozen dumplings is the same as with fresh when putting them into soup.
Cover breadcrumbs with milk and wait until breadcrumbs soaks milk. Mince garlic, onion parsley leaves and add marjoram.
Sauté onion on butter until becomes translucent.
Mince the liver and sauté them shortly on butter with onion and garlic (just to become grey).
Add eggs, parsley, marjoram, salt, pepper. Mix well all ingredients and shape them into balls approximately 1 inch in diameter.
Cook them in hot soup 3-5 minutes (depends on size). Be careful, soup mustn't wildly boil otherwise dumpling will disintegrate.
If you want to freeze them put them on foil on hard surface making sure they don't touch each other. Freeze them completely and than put into bag. You can take them one by one and follow the above mentioned cooking procedure.