North Croatian Ham and Pasta Casserole (Krpice Sa Sunkom)
nitko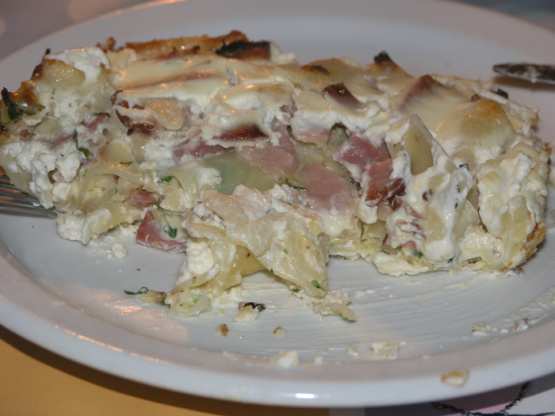 This is recipe from Zagorje region in Croatia. I liked this meal when I was a kid and I like it still today. This meal is very suitable for light dinner or lunch. It is better if you use smoked ham.

Excellent!! had this for supper last night, and am enjoying the last of it for lunch today, rich and creamy and full of flavour, but very simple to prepare! Not a runny sauce, but deliciously moist. I unfortunately didn't have a flat pasta to use, I'll make sure that I do next time, so I used small shells, which still seemed to work well. its not often that i make pasta without adding cheese, but believe me, this doesn't need it! Delicious, made for PAC FAll 2008, thanks, Nitko!
Cook pasta until al dente.
Sauté finely sliced onion on butter until soft and add sliced ham. Sauté it not more than 5 minutes than let it cool for a bit.
Take casserole pot; coat it with butter and sprinkle bread crumbs over to cover the butter.
Mix well eggs, milk, butter and some sour cream. Add chopped parsley leaves salt and pepper into eggs and mix with ham.
To prepare casserole first lay one layer of pasta, than mix the rest of pasta with ham and eggs and cover the first layer of pasta.
Cover with the rest of sour cream. Bake it for 25 to 35 minutes on 200°C Serve hot.