North Carolina-Style Pulled Pork Sandwiches and Coleslaw
Kim D.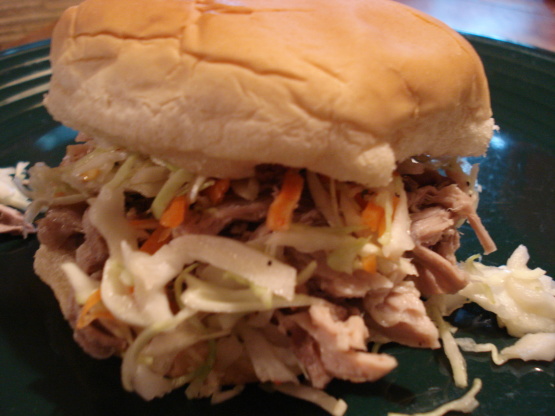 A pulled pork recipe from the October 2008 issue of "Every Day with Rachael Ray." Looks really good!
I am doing this exact (almost) recipe today, as I type this. I just made the Coleslaw maybe 10 minutes ago, My Masterbuilt Smoker, with the Window in the Door is set for 250 Degrees and the IT of the pork roast is 167. I loaded my smoker wood tray up 2 times, for a light smoke flavour. I could wish that this recipe tastes as good as the sandwiches I used get at the shacks beside the huge Cotton mills in North Carolina, and those sandwiches were to die for, they were beyond delicous. But I know it won't, because those folks in those shacks cooked a whole Pig, then deboned it and shred it all up and mixed it all up. Those shacks fed the folks in the Cotton Mills.
Preheat the oven to 300 degrees. Mix together the salt, pepper, and paprika; sprinkle all over the pork and rub inches
In a large skillet or Dutch oven, heat the oil over medium-high heat. Add the pork and cook, turning occasionally, until browned, 8 to 10 minutes. Transfer to a 24-inch-long sheet of heavy duty foil and double wrap the pork.
Place the pork, skin side up, in a 9-by-13-inch baking dish; roast until tender, about 4 1/2 hours. Remove from the oven and carefully unwrap the top of the pork, revealing the skin. Increase the heat to 450 degrees and roast for 20 minutes more.
Transfer the roast to a large bowl, along with any juices. Using two forks, shred the pork. Add the vinegars, sugar, and hot sauce; toss. Serve on the hamburger buns, topped with coleslaw (recipe follows), if using.
For the coleslaw: In a medium bowl, whisk together the vinegars, sugar, hot sauce, crushed red pepper, salt, and pepper. Add the cabbage and toss. Let stand for 30 minutes, then toss and serve.