North Carolina Boneless Shoulder Roast
Papaof3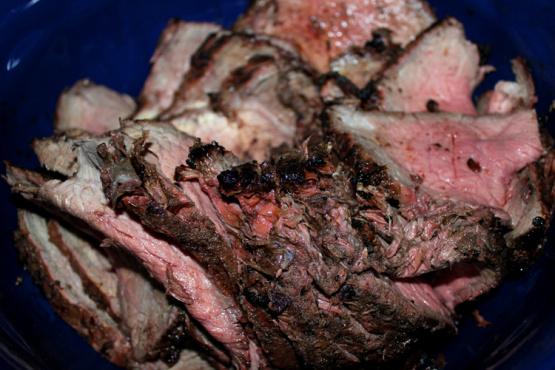 This was served at a barbeque for the governor of North Carolina many years ago by my first husband's family. Before he died in 1995 it was one of our favorite meals. I have remarried and I think it is time to add this back to the rotation. It's really good.

Worse roast Ive ever made. I mean the worse. I followed the directions perfectly and all I could taste was the Vinegar. Don't waste your meat or time with this recipe.
2 -3

lbs boneless beef shoulder, at least 2 to 3 inches thick

Marinade

1⁄2 cup vegetable oil
1⁄2 cup vinegar

2

tablespoons Worcestershire sauce

2

tablespoons A.1. Original Sauce

2

teaspoons garlic salt
adolphs meat tenderizer
Mix marinade and pour over meat. Sprinkle all sides of roast white with tenderizer. Place in covered dish or bag and marinate in the frig for 24 hours.
After 12 hours, recover with tenderizer.
Cook 45 minutes over charcoal turning every 10 minutes and baste with marinade at each turning until desired. Careful not to overcook.
Slice very thin and serve.