North African Quick Tagine-Style Chicken
Annacia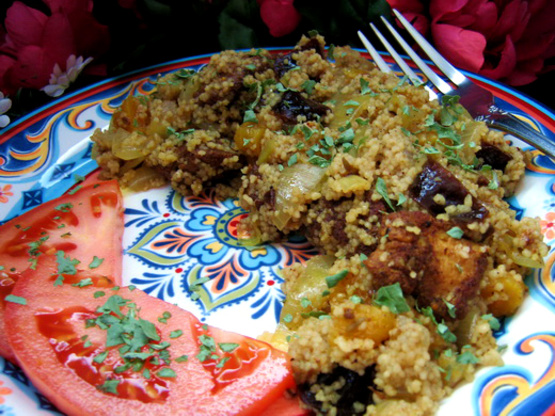 Cubed tender cuts of lamb or diced eggplant or tofu may be substituted for the chicken in this dish. Rachel Ray

This dish is sooo delicious! It is flavorful and the combination of the spices along with the golden raisins and prunes really makes this dish. The only change I made was to use skinless, bone-in chicken thighs and drumsticks vs. cubed chicken breasts. The meat was really moist and tender. Will definitely make this dish again! Made for the African Recipe Tag, November, 2013.
2

tablespoons extra virgin olive oil, 2 turns of the pan

4

garlic cloves, smashed beneath the flat of your knife with the heel of your hand, discard skins
1 1⁄2-1 3⁄4 boneless skinless chicken breasts, cut into large bite-size pieces
1 1⁄2 teaspoons Montreal chicken seasoning (recommended ( Montreal Seasoning by McCormick) or 1 1⁄2 teaspoons salt and pepper (coarse salt and coarse pepper)

1

large yellow onion, quartered and sliced

10

pitted prunes, coarsely chopped
1⁄4 cup golden raisin

2

cups low sodium chicken broth, available in paper containers on soup aisle

Spice blend

1 1⁄2 teaspoons ground cumin
1 1⁄2 teaspoons sweet paprika, eyeball it
1⁄2 teaspoon ground coriander, eyeball it
1⁄2 teaspoon turmeric, eyeball it
1⁄8 teaspoon cinnamon, a couple pinches

Couscous

1 1⁄2 cups chicken stock
1 1⁄2 cups couscous

2

tablespoons extra virgin olive oil, eyeball it

2

scallions, finely chopped

Condiments

chopped cilantro leaves or flat leaf parsley
finely chopped scallion
mango chutney, any variety and brand (available on the condiment or International food aisles)
Heat a large nonstick skillet over medium high heat. Add extra-virgin olive oil, 2 turns of the pan, in a slow stream, and add smashed garlic. Season the chicken with seasoning blend. Scatter chicken around the pan in an even layer. Cook chicken pieces 2 minutes on each side to brown, then add the onions, prunes, raisins and stock. Mix spices in a small dish and scatter over the pot. Cover and reduce to moderate heat. Cook 7 or 8 minutes, remove the lid and stir.
To prepare the couscous, bring chicken stock to a boil. Add couscous, extra-virgin olive oil and scallions and remove the couscous from the stove immediately. Cover and let stand 5 minutes. Fluff the couscous with a fork.
Uncover chicken and cook another 2 to 3 minutes to thicken slightly. Adjust the seasoning, to taste, and serve chicken on a bed of couscous. Garnish with chopped cilantro and scallions. Serve with chutney.