North African Marinade for Flank Steak
lazyme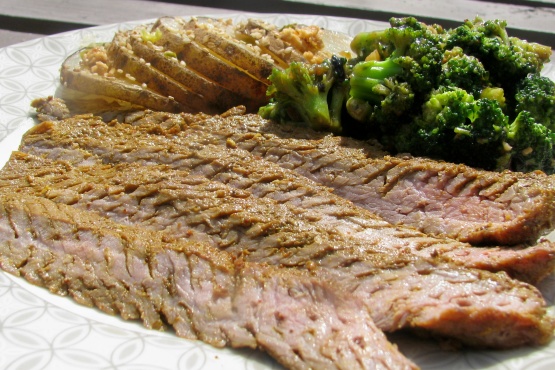 This is a recipe I found in my "The Complete Meat Cookbook" by Bruce Aidells and Denis Kelly. Posting for ZWT event so untried by me, but sounds like something we would enjoy. They stated: ""North African Marinade is also excellent for butterflied leg of lamb, lamb kebabs, or veal shanks. The recipe makes enough marinade for a 4 to 5-pound butterflied leg of lamb or 3 to 4 pounds of lamb or veal shank."

Excellent, diner524. The marinade was perfect with our flank steak, and it broiled so nicely and had plenty of flavor. )Our summer weather took a break today and brought a little rain shower, so I chose to broil instead of grill. But that was the only change I made to this recipe.) Made for ZWT #9 (North Africa).
Combine all the ingredients except steaks in a bowl and mix well. (Marinade can be kept refrigerated for 7 to 10 days.).
Pierce the steak all over on both sides with a sharp fork or skewer. Place it in a zipper-lock bag or shallow glass baking dish. Pour over the marinade and refrigerate overnight (cover if using a dish). Shake and turn the bag or turn the meat occasionally. Let it come to room temperature before cooking.
TO GRILL THE STEAK:.
Pat the steak dry. Grill the steak over medium-hot coals in a covered or uncovered barbecue or directly over the flames of a gas grill. Flank steak is best cooked medium-rare and should never be cooked more than medium; the internal temperature should be 130 to 135 degrees F. This should take roughly 4 to 5 minutes per side on a standard grill.
Allow the steak to rest for 5 minutes, covered loosely with aluminum foil, before carving into 1/4-inch-thick diagonal slices across the grain.