lazyme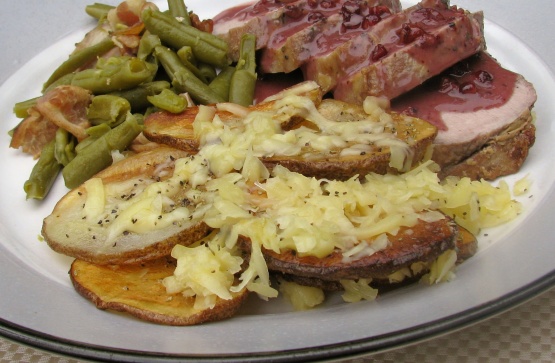 This recipe is from a cookbook called Favorite Brand Name Classic Recipe Collection, and features roasted potatoes flavored with fresh herbs and a mild Jarlsberg cheese.

Made this last night with a few exceptions. I didn't have any fresh rosemary so I used dried ground rosemary. Also didn't have any Jarlsberg cheese (next time I will!!) so I used grated swiss cheese. Made as directed. Just my oldest son and I and we both liked the way this came out! Next time, and there will be a next time, I will be sure to have the proper ingredients because if it was good this time, the right ingredients will make it better!! Made for Football Pool 2013.
Preheat oven to 425°.
Slice potatoes wafer thin, using vegetable slicer or food processor. Drop potato slices into cold water to avoid discoloration.
Rub rosemary between fingers to break apart. Heat oil in a 12-inch cast iron skillet. Add potatoes, and cook over medium-high heat, shaking pan gently to toss but not break potatoes. When potatoes are slightly limp, sprinkle with rosemary, mustard, and pepper. Shake well to mix. Press with spatula. Cook until potatoes are brown and crisp on bottom, lifting carefully to check.
Sprinkle cheese on top of the potatoes. Immediately place skillet in oven and bake 2 to 3 minutes or until cheese starts to bubble and brown slightly.