lazyme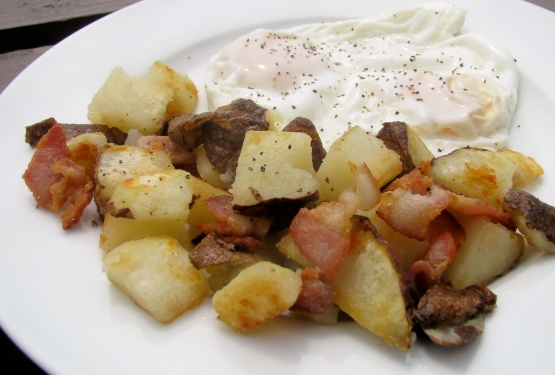 This recipe is from writer/director (Julie and Julia, Sleepless in Seattle) , who put this recipe for bacon hash in her book Heartburn. It's a simple and comforting dish, good any time of the day.

Made for the Cooking Tag Mania Special because Icelanders view potatoes w/every meal as a near religious imperative. This was easy-to-fix & flavorful. I added diced red onion & let it caramelize while the potatoes browned. A sprinkle of shredded cheese is also often used & then a mound of the hash is topped w/fried eggs. My DH & BIL were well-fed & happy campers. Thx for sharing this recipe w/us.
Cut bacon into small pieces, then cook over low flame in skillet.
Meanwhile, dice up the cooked potato and, after some fat is rendered from the bacon, add to the skillet. Cook until the potatos are crusty brown. season with salt and pepper.
Eat with an egg, if you like.