Noo's Famous Spiced Green Chicken Skewers
gailanng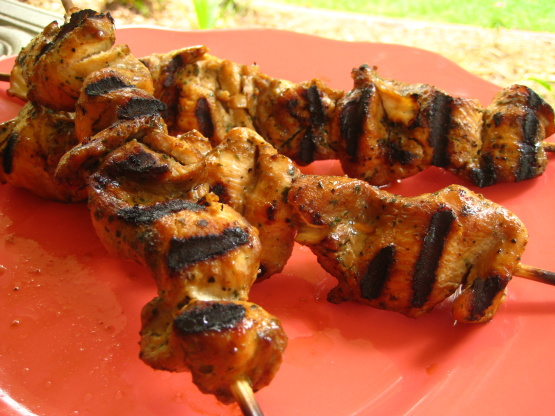 This is a minimum effort maximum flavour recipe. Every summer we barbecue as much as we can (well I do live in England!) and I always have to make loads of these to throw on the barbie. Not only that, if I go to a friends barbie, I always get asked to bring some of my "green chicken thingies"--hence the name! They are so easy to do, but the flavours are great. I like to use little chicken fillets if I can, but strips of chicken breast are fine. You can of course just grill these off indoors, but it�s not quite the same without that char grill flavour you get from a barbecue. They are also great hot or cold tucked into some pita bread with some salad ! NB-don't forget to soak the skewers if they are wooden! Timings do not include marinating time. I just have to add that this is now a prize winning recipe..having been submitted for a competition here in Adelaide, I got invited along for a cook off with five others, and won a top of the range Weber Q barbecue and a stack of Weber goodies to go with it...along with plenty of rave reviews!! NOTE: I don't recommend using all ground coriander and no fresh coriander..it really isn't the same at all.

Top Review by nochlo
Made for PRMR! Good BBQ recipe, I was alittle worried when looking at the ingredients but all turned out well. Great flavor and great texture. I would recommend to friends and family. Thanks for the recipe.
Cut the chicken lengthwise into strips.
Put the remaining ingredients into a food processor and whiz until smooth.
In a bowl, coat the chicken in the marinade. Cover and chill for at least two hours.
When you are ready to cook, thread the chicken, concertina style onto the skewers. Grill over hot coals, basting with any remaining marinade.