Noodles With Herbed Carrots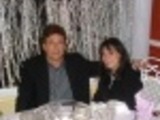 Woman's World Magazine 5/2/00. Everyone loves buttery noodles. And convenient, storebought grated carrots help you get this extra-special version on your table in just 20 minutes. Sage is widely available dried or fresh; dried varieties come ground and "rubbed", or crumbled.
Directions
Cook noodles according to package directions; drain.
In same pot melt butter over low heat. Add carrots; cook, stirring occasionally, until softened, 3-4 minutes. Stir in parsley, sage, salt, and pepper.
Add noodles; toss to coat.