Bergy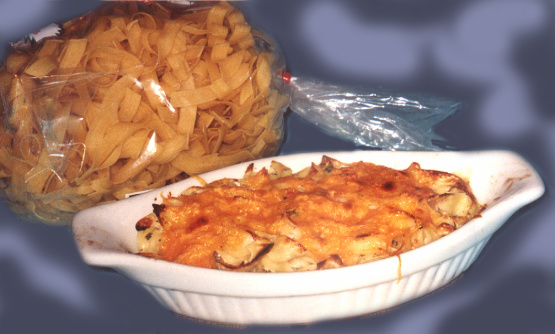 A variation on a theme...I know there are other recipes for Noodles Romanoff here, but this one has some subtle differences that make this recipe one you may like to try as a side dish with your next meal! YUM!

Very good! I looked this up after I got a review from Michelle and made it last night as a side dish. I did make one mistake - but the results were still just fine. I grabbed the oregano by accident, and threw that in the mix, instead of basil. Yummy stuff!
Cook noodles according to package directions; drain.
Preheat oven to 375.
In large bowl, combine cottage cheese, sour cream, onions, parsley, basil, salt, garlic powder, and pepper; mix well.
Stir in noodles.
Spoon into greased 8-inch baking dish.
Bake 20 minutes or until hot and bubbly, topping with cheddar cheese during last 5 minutes of baking.
Refrigerate any leftovers.