Noodles in Sesame-Soy Sauce
Bellinda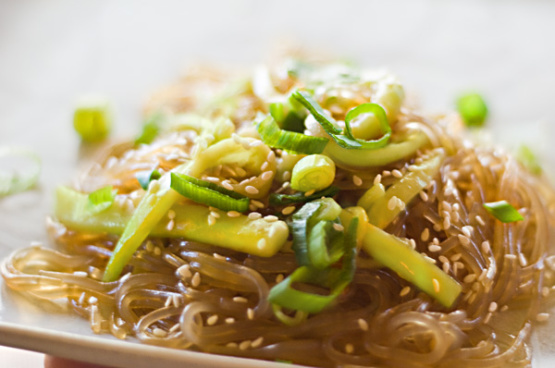 It tastes like something you might eat at a Chinese Restaurant but it's pretty healthy. Eat it as a side dish or appetizer.

After making a few slight changes to this dish to make it better suit my families taste I choose to rate this as 5 stars. First, I had used up all the rice noodles a few days earlier and had forgot to get more at the grocery so I used spaghetti noodles. Second, I left out the cucumber because I didn't think the texture of the cucumber would blend well with the spaghetti. And third, I more a little more of the sauce and used rice wine vinegar. It was super good this way. I will be making it again and again. Normally with all the changes I made I would not rate with 5 stars, but I would never have come up with this on my own so Ill gladly give to the 5 star credit for the idea. Thank you so much for a great Asian side dish.
Sauce: In a small bowl combine soy sauce, oil, sugar and vinegar.
In a large bowl, combine cucumbers, noodles and sauce. Stir. Transfer to a platter and sprinkle with scallions and sesame seeds.
To give it more flavor you might stir in minced garlic and some chili sauce. Also play around with the amount of ingredients to you likings.