Parsley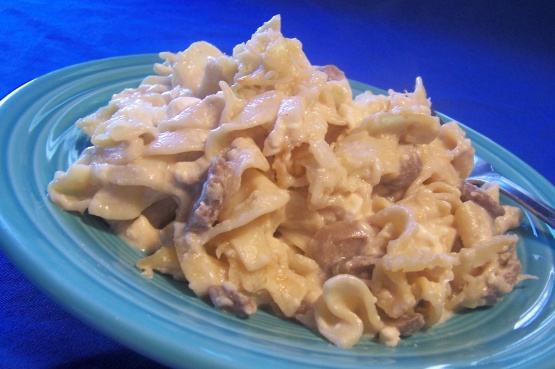 We really enjoy noodles as a sidedish; such a nice change from potatoes. This recipe comes from an old Pillsbury Family cookbook; creamy and delicious. A nice accompaniment to just about any entree or a great vegetarian main dish.

Oh, the horror! How did Zaar officials allow this recipe to be published! I am going to have my dentist wire my jaws shut.....otherwise I will never stop eating this! SO GOOD! I carmelized the onions and used more mushrooms, but followed everything else. I did use the waterbath but I don't think it is needed....not that many eggs to make it a custard. I'm really going to have to limit serving this dish cause I can eat the whole thing by myself!
Preheat oven to 350 degrees.
Cook noodles following directions on package.
Rinse in cold water; drain In a large skillet, saute onions and mushroom pieces in butter.
Combine with beaten eggs, cottage cheese, sour cream, pimiento, garlic, Worcestershire sauce, salt, pepper, hot sauce, 1/4 cup Parmesan cheese and egg noodles.
Turn into a greased 1 1/2 quart casserole; sprinkle with remaining 1/4 cup of cheese.
Place casserole in a pan containing 1 inch of hot water.
Bake for 30 minutes or until hot and a delicate, golden brown.