Noodles and Stir Fried Shrimp Medley
Alskann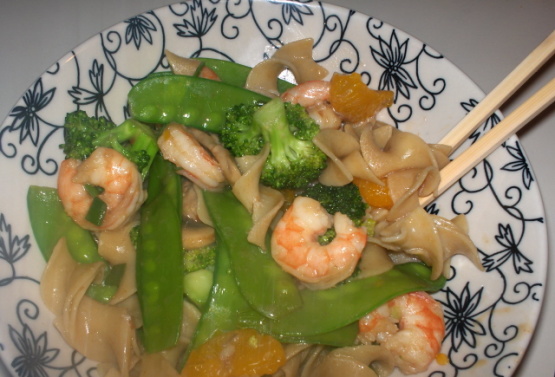 I found this recipe on the back of a package of whole wheat egg noodles- Yum!

I made this a s a part of the ZWT6 and I fell in love with it. It was a suprise hit. I wasn't sure about the Mandarin Orange Section until I tasted it. They gave just the right amount of tang and sweetness. This dish is really easy to make.
Cook noodles according to package directions. Drain. Keep warm, set aside.
While noodles are cooking, pour mushroom and orange liquids into a measuring cup add water to equal 1 cup. Blend in cornstarch and set aside.
In a large skillet, melt butter and saute mushrooms, shrimp, pea pods, green onions, and garlic powder until shrimp turn pink.
Add reserved liquid, stirring until slightly thickened.
Toss shrimp mixture with hot cooked noodles, gently blend in orange segments and soy sauce to taste.