lets.eat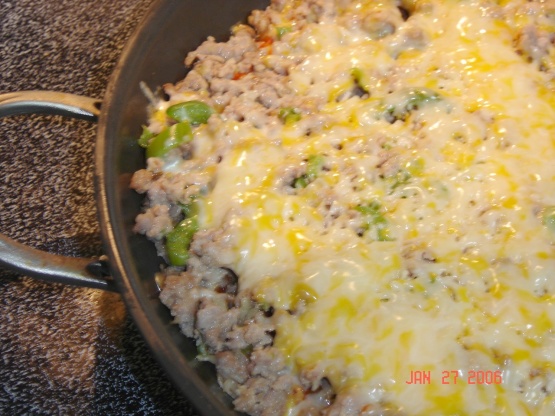 It is a great variation to your regular ol' standard pizza. Recipe is from "Family Circle", Woman's Day", or "Woman's World" magazine, 2005.

Huge hit with my family-they absolutely loved this! Instead of hot sausage used 1/2 sweet/1/2 breakfast sausage. Next time I will use a different skillet, mine stuck to the bottom, so I wasn't really able to cut it into slices. Used co-jack cheese. Thank You(once again!)
Sauté sausage in a large skillet, breaking up clumps as it cooks. Add pepper and onion; sauté until sausage, pepper and onion are cooked. Remove to a bowl.
Cook noodles as packages directs. Drain, then stir in 1 seasoning packet (save remaining 2 packets for another use.)
Heat oil in same skillet over medium heat. Spread noodles evenly in skillet. Pour eggs over noodles. Cover and cook until eggs just begin to set.
Spread with marinara sauce, leaving a 1-inch border of noodles around edges. Top with sausage mixture and cheese.
Cover and cook over medium-low heat to melt cheese. Serves 6.