Non Cook Hoisin Spring Rolls
Bergy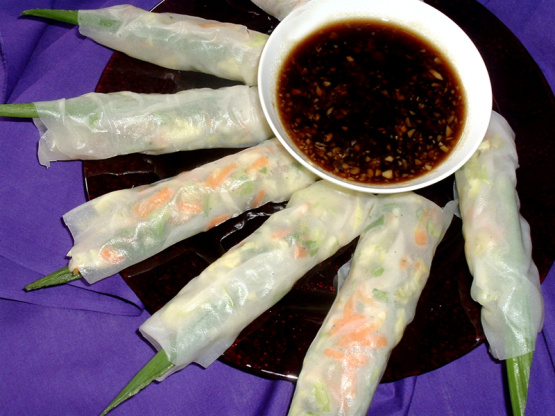 Most supermarkets now stock oriental ingredients, such as rice paper ingredients. Keep them as a store cupboard ingredient as they are great for a last minute starter or snack - or you do is soak them in hot water and then fill with your favourite ingredients. Be careful when handling them as they tear quite easily.

Yummy and lots of fun to make! I must say Bergy's look a heck of a lot neater than my first few attempts! I used lettuce instead of cucumber and these made a lovely lunch! DH liked them with hoisin sauce to dip into, I liked them with your floating chili soy dipping sauce. Thanks for such a healthy, delicious recipe - I'm going to make them with char sui next time!
Place the rice paper wrappers in a heatproof bowl and cover with hot water, leave to soak for 5 minutes until soft and pliable.
In a separate bowl, toss together the carrot, cucumber, salad onions and sesame seeds.
Drain the rice paper on a clean tea towel and spread 1 Tsp of the hoisin sauce across the centre of each. Sprinkle with a few coriander leaves. Place the vegetables and then the chicken on top. Make sure that you don't over fill them as they may split if you do.
Fold 2 sides in, then roll up to make a neat cylindrical shape. Serve immediately with extra hoisin sauce to dip into.