Non alcoholic Pina Colada

I havent tried this one yet, but it sounds yummy and refreshing for all those who dont consume alcoholic beverages.
Directions
Blend in blender until desired consistency is achieved.
Most Helpful
Delicious and so easy to make. No need to make any changes.

Excellent!<br/><br/>I used what I had on hand, so my version went like this (for 4 servings) :<br/><br/>one 14 oz. can of sliced pineapple in juice (no sugar added)<br/>7 oz. of coconut milk (18% fat)<br/><br/>I blended until smooth and poured on 2-3 regular ice cubes (I had nothing to break them) in tall glasses. I think I would've liked it a lot less if I had used only juice and no pureed pineapple. It was very good, sweet enough to my taste and made a great desert.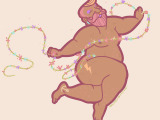 This was very good but I made a few changes. I tripled the recipe but when I tried it, it was missing something. I decided to add 2 more oz of coconut cr