Juju Bee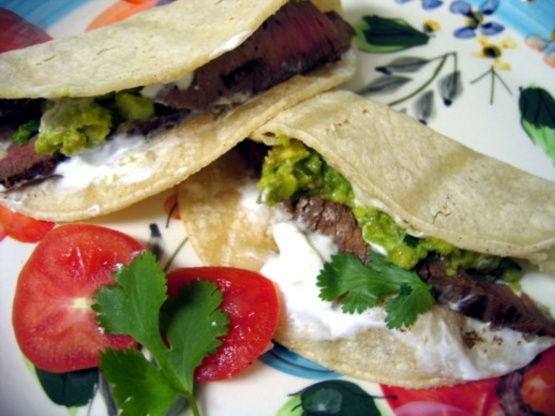 This is a GREAT recipe that I adopted. The onions are fantastic.

Top Review by jrusk
This IS really great. I loved the onions and I can't wait to try them as a side to something else. Even the non-onion-eater ate MY onions. I used fresh cilantro and oregano, mexican chili pods and queso fresco. I used flank steak and marinated for 6 hours. The flavor was awesome...so much so that I felt the other ingredients sort of over powered the delicious meat. I ate some of the meat by itself so I could really enjoy the flavor. Delicious recipe! This can be a taco recipe, onion recipe or steak marinade...lots of options.
Mix all marinade ingredients.
Pierce the steaks all over, on both sides.
Pour over marinade, cover with plastic wrap and refrigerate over night.
Lime pickled red onions: Mix all the ingredients and let marinate for at least 3 hours at room temperature.
Will keep for up to 4 days in the fridge.
About an hour before grilling the meat remove the steaks from the refrigerator.
Preheat the oven to 300 degrees.
Remove meat from marinade and pat dry with paper towels.
Season lightly with salt and pepper.
Cook over hot coals with mesquite until done to your liking.
Set the meat aside and cover loosely with foil to keep warm.
Briefly heat each tortilla, either over the direct heat of the grill or in a heavy skillet.
Only enough to make them pliable.
Place 2 pieces of cheese on each tortilla, fold in half.
Wrap these (about 6 each) in foil and place in the preheated oven just long enough to barely melt the cheese, approximately 20 minutes.
To serve, cut the steaks against the grain into strips 3 to 4 inches long and about 1/4" thick.
Set out the fire roasted chiles, pickled onions, tortilla/cheese setups, guacamole and salsa.
Fill the tortillas and enjoy.