Nobu's Asian Matsuhisa Salad Dressing
Bayhill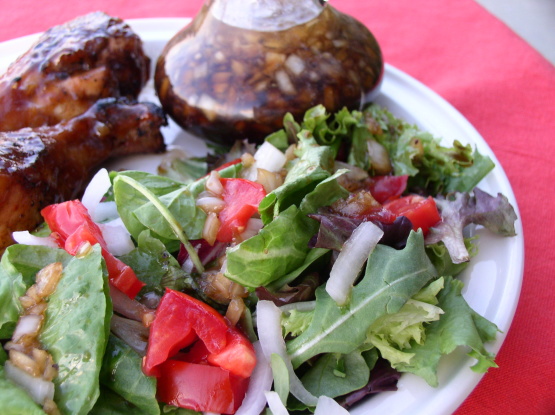 This comes from the world famous Nobu restaurant. There, they serve it over a lightly seared ahi-tuna over greens salad. However, I decided to just post the dressing on its own because it is SO good on SO many different salads. Have fun with it!
Delicious! This dressing goes together quickly and easily. I was a little concerned about the amount of onions, but it works really well. I made it exactly as written and can't wait to try it on Chinese chicken salad. **Made for 2015 Culinary Quest (Family Picks) for Munching Minions
Combine the onion, rice vinegar, water, granulated sugar, pinch of sea salt, mustard, ground black and ground black pepper in a bowl.
Stir until the salt and mustard have dissolved.
Add the grapeseed and sesame oils and soy sauce and mix well.