Noah Bedoahs (Chocolate Chip Shortbread Cookies)
630434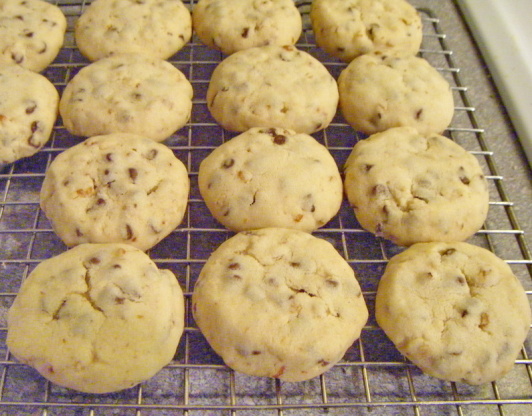 From Judy Rosenberg's 'Rosie's Bakery All-Butter Fresh Cream Sugar-Packed No-Holds-Barred Baking Book'. I bake for friends and family all the time and hands down, this recipe is requested most often -- usually with Mini Chocolate Chips and Mac Nuts. DIRECTIONS MAY LOOK INTIMIDATING BUT THE RECIPE COMES TOGETHER IN MINUTES; follow step-by-step instructions for perfect buttery, light and crispy shortbread with every batch!
Top Review by 630434
These are FABULOUS! As someone else posted, these are easy and I think they work best using mini chocolate chips. If you follow the recipe exactly, you too will be pleased. I made my cookies smaller than suggested but still approx. 1/2 inch thick and roughly 1.5 inches in diameter; it's a perfect size for me and would also be a great size for giving. My yield is about 30 cookies though I doubled the recipe yielding 60 cookies. Give this a try, you won't be sorry.
Preheat oven to 275°. Line 2 cookie sheets with parchment paper or leave them ungreased.
Sift the Flour, Baking Powder and Salt together into a small bowl and set aside.
Using an electric mixer on medium speed, cream the Butter and Sugar together in a medium-sized mixing bowl until light and fluffy, about 1-1/2 minutes. Stop the mixer to scrape the bowl several times with a rubber spatula.
Add the dry ingredients on low speed and continue to blend for 10 seconds. Increase the speed to medium-high and beat until fluffy, 2 to 2-1/2 minutes. Scrape the bowl.
Add the Chocolate Chips and Nuts with several turns of the mixer, then complete the mixing by hand with a wooden spoon.
Measure out generous rounded tablespoonfuls of dough and roll them into balls with your hands.
Place the balls 1-1/2 inches apart on the cookie sheets and press them down lightly to form a flat bottom (cookie should be about 1/2-inch thick).
Bake the cookies until they are crunchy and golden, about 1 hour. To test for doneness, remove one cookie from the sheet and cut it in half. There should be no doughy strip in the center. Allow the cookies to cool on a rack.
Makes 15 - 17 cookies.