No-Yolk Chocolate Fudge Cake
Marlene.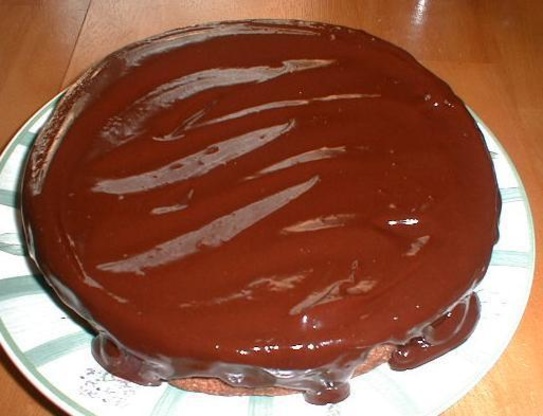 This is being posted in response to a request for a Passover cake. The recipe is originally found in the Let My People Eat cookbook. The description indicates it has a lot of flavor and little cholesterol. Cake may fall a little as it cools. The cake may also be prepared 2-3 days in advance and glazing should be done on the day the cake is being served. Cook time includes refrigerator time. Actual prep and cooling time are unknown.
This was the biggest surprise cake I've ever made!! :) I was a bit hesitant, no flour, no eggs... nothing close to the 'usual' cakes I've tried. I was incredibly happy with the results! This tasted fabulous! It was easy to make, I made it exactly as stated in the recipe ... I did prefer it served the first time , the "at room temp" over out of the fridge later. This will definitely be made again!! (and because of this recipe , I now own a SPRINGFORM pan *LOL*) Thanks Ducky, for posting this recipe!! MMM!!
Cake

158.51

ml walnut halves, toasted and cooled

118.29

ml unsweetened cocoa powder

14.79

ml grated orange zest

354.88

ml sugar, divided

14.79

ml freshly squeezed orange juice

7

large egg whites

1.23

ml salt

59.14

ml unsalted margarine, melted and cooled

Glaze

158.51

ml chopped semisweet chocolate

22.18

ml freshly squeezed orange juice

44.37

ml unsalted margarine

14.79

ml sugar

0.25

ml salt
Cake: Preheat oven to 350F and grease an 8-inch sprinform pan.
Place walnuts in food processor or blender and pulse several times.
Add cocoa powder, orange zest and 3/4 C sugar; process until finely ground, being careful NOT to grind to a paste.
Stir in orange juice and set aside.
In large bowl, beat egg whites with salt until they begin to hold soft peaks.
Gradually add the remaining 3/4 C sugar, 2 Tbsp at a time, beating after each addition, until the egg whites begin to hold stiff peaks.
Gently stir about 1/3 of the egg whites into the walnut mixture.
Fold in the remining egg whites.
Add the cooled margarine and fold everything together gently but thoroughly.
Pour the batter into the pan and bake in the middle of the oven for 40 minutes or until tester comes out clean.
Remove the cake and let cool completely in the pan.
Run knife around the edges of cake and remove the sides of the pan.
Tightly wrap cake and refrigerate until ready to glaze.
Glaze: In small heavy saucepan, combine chocolate, orange juice, margarine, sugar and salt.
Stir over moderately low heat until the margarine is melted and smooth.
Carefully invert the cake onto a rack in a shallow baking pan.
Pour glaze over the cake, tilting if desired to allow glaze to run down the sides.
Garnish with walnut halves.
Chill, uncovered, for 30-45 minutes or until glaze is set.
Serve at room temperature.