No-Time-To-Cook Main Dish
Ms B.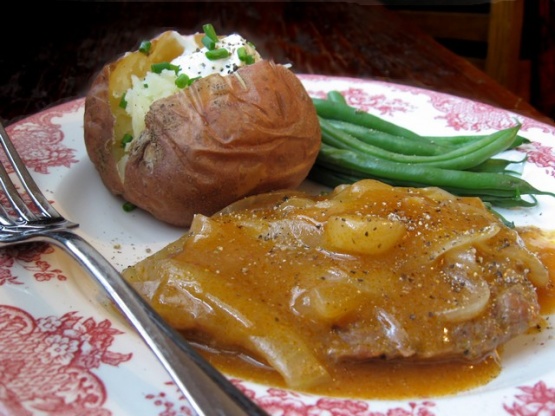 A very easy recipe for cube steak that takes little prep and almost no supervision. The gravy is great over noodles, mashed potatoes, or even just ladled over baked potatoes. This is a favorite comfort meal for my hubby.

This was wonderful. Since several others complained of tough meat I did the following: sliced onion into bottom of pan. browned cube steak after first coating in flour, salt, pepper then put on top of onions. covered cube steaks with mushrooms from a can.( I often forget to use before fresh mushrooms spoil so used canned:) mixed season salt, pepper and water with soup and poured on top of steak. covered dish with foil and cooked 325 for 1 1/2 hours. I served with mashed potatoes very tender and tasty
Preheat oven to 375F.
Season cube steaks with seasoned salt and pepper; place in a 9x13 baking dish.
Layer sliced onions and mushrooms over the steaks.
Combine soup and water; pour over steak, onions and mushrooms in baking dish.
Cover with foil and bake at 375F for 45 minutes, uncover and bake 15 more minutes.
Note: Time may be more or less depending on the thickness of the cube steak.