Nif_H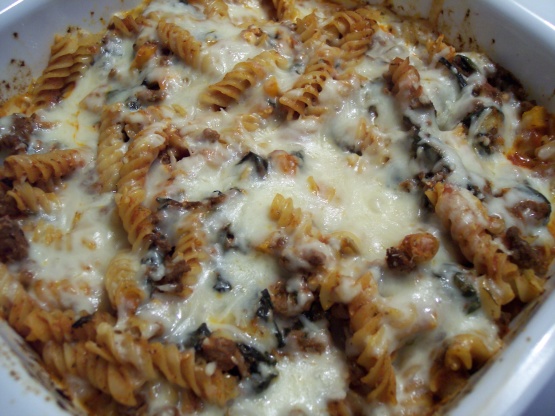 I'm a little addicted to baked pasta at the moment, and tonight I really wanted some but didn't have the time to wait for it to bake the usual hour or so. So...I came up with this!

Very easy to prepare, deliciously flavoursome and a recipe I'll certainly make again. I made a few adjustmnets to meet our taste preferences and, in one case, due to availability of an ingredient. I used ground pork/veal as I coudn't get ground turkey which isn't as commonly available in butcher's here. If I wanted some I could order it, but I wasn't that organised. ;) I used the recommended pasta and, in what became my step 3A, I sauteed 4 cloves of garlic, one onion and one leek, as I love the blend of flavours of these three together. I also doubled the spinach (can never have too much of it!) :) and used red pepper instead of green (personal taste preference). I added rosemary, sage and thyme to the basil and oregano. YUM! Loved the microwave step in this. Pleasingly, it didn't alter flavour but it did speed up the cooking time. Thanks for sharing this recipe, smellyvegetarian. I enjoyed its versatility (being able to play with it!) and we both loved the finished dish. Made for Newest Zaar Tag.
Preheat oven to 400.
Cook pasta according to package instructions. Set aside.
Meanwhile, in a small pan brown ground turkey over med-high heat. Remove from heat and add spinach, herbs, and cottage cheese.
Combine pasta, meat mixture, 1/4 c mozzarella, and sauce in a 2 quart casserole dish. Stir well to combine.
Microwave on high for 4-5 minutes, or until mixture is heated through.
Top with remaining cheese and bake for 10-15 minutes, or until cheese is melted and bubbly and casserole is nice and hot.