No-Sugar-Needed Peach Jam
KennKonn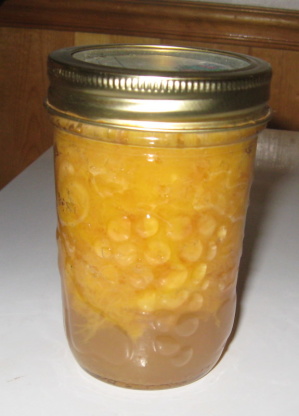 Just imagine opening a jar of golden, sparkling peach jam in the middle of January with 2 ft of snow on the ground. UUUUMMMM good! Top your toasted bagel with cream cheese and this jam, and you will be in HEAVEN!!!!

Nana Lee I love this recipe. I had a bag of peaches in the deep freeze. I had just enough. I love the fact it uses 1/2 of splenda...none of this 7 cups of sugar. It was fast and simple and set up wonderfully. I made 5 jelly jars + the little 1/4 cup jar that I am going to give to my neighbor to try. My grandma is diabetic and I give her jams and jellies every xmas...she will love this. This is my peach jam recipe from now on.
3

cups chopped peaches (about 3 pounds fully ripe peaches)
3⁄4 cup water

1

(1 3/4 ounce) boxlower sugar pectin or 1 (1 3/4 ounce) boxno sugar needed fruit pectin
1⁄2 cup Splenda granular, no calorie sweetener
BRING boiling-water canner, half full with water, to a simmer.
Wash jars and screw bands in hot soapy water; rinse with warm water.
Pour boiling water over flat lids in saucepan off the heat.
Let stand in hot water until ready to use. Drain jars well before filling.
PEEL, pit and finely chop or grind peaches. Measure exactly 3 cups prepared peaches into 6- or 8-quart saucepot.
Stir in water.
Gradually add pectin, stirring until well blended.
BRING mixture to full rolling boil (a boil that doesn't stop bubbling when stirred) on high heat, stirring constantly. Boil exactly 1 minute, stirring constantly.
Remove from heat.
Stir in SPLENDA® Granular.
Skim off any foam with metal spoon.
LADLE immediately into prepared jars, filling to within 1/8 inch of tops. Wipe jar rims and threads.
Cover with 2-piece lids.
Screw bands tightly.
Place jars on elevated rack in canner. Lower rack into canner. (Water must cover jars by 1 to 2 inches. Add boiling water, if necessary.).
Cover; bring water to gentle boil.
PROCESS 10 minutes.
Remove jars and place upright on towel to cool completely.
After jars cool, check seals by pressing middle of lid with finger. (If lid springs back, lid is not sealed and refrigeration is necessary.).
ADDED INFO 3/10/07.
Great Substitute:
Prepare as directed, substituting 1 thawed can (12 oz.) frozen white grape juice or apple juice concentrate for the 3/4 cup water.
Makes about 4 (1-cup) jars or 64 servings, 1 tablespoons each.
Nutrition Information Per Serving with White Grape Juice:
20 calories,
4g carbohydrate,
4g sugars.
Nutrition Information Per Serving with Apple Juice:
15 calories,
3g carbohydrate,
3g sugars.
Inversion Method:
To use inversion instead of boiling water bath method, turn jars upside-down after bands have been screwed tightly.
After 5 minutes, turn upright.
Avoid improper lid seal by filling jars immediately with hot fruit mixture.