No Sugar Banana Bread (Made With Stevia and Yogurt)
Eta4eva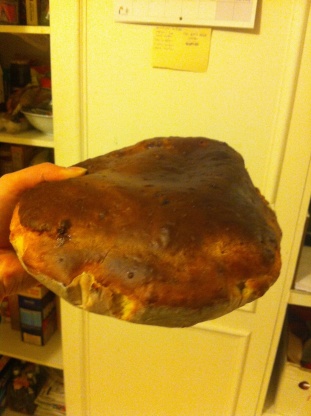 Sugar gives you pimples, oil makes you fat. Solution : Stevia is a no calorie sweetner (listed as a health food), yogurt your colon absorb nutrients.

This recipe yielded a DISASTER of a .. I can't even call it a cake! It was a dense lump of rubbery gloop which after one mouthful was thrown in the bin! I followed the recipe although to be specific I used fat free natural yoghurt and liquid stevia - maybe I had that wrong? I don't know! It was
Preheat oven to 350°.
Lightly grease 9 x 5 loaf pan.
In large bowl, combine flour, soda and salt.
In separate bowl, cream together yogurt and Stevia.
Stir in eggs and mashed bananas until well blended.
Stir banana mixture into flour mixture; stir just to moisten.
Pour batter into prepared loaf pan.
Bake in preheated oven for 60-65 minutes until a toothpick inserted into center of loaf comes out clean.