No Sugar Added Pumpkin Cream Cheese Muffins
mliss29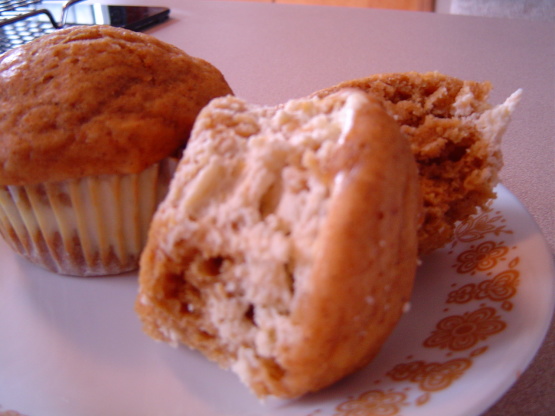 A pumpkin muffin with a cream cheese filling. Low in fat and made with no artificial sweeteners.

I like these, but they are subtle. I used too much batter in the first 1/3, so I had to make another quarter batch of batter to complete the tops. I think I forgot the flour in the filling, so maybe that's why it wasn't "filling" but a coating? I don't know, but they taste good. I may try pineapple juice next time to make them sweeter. Reviewed for Healthy Choices ABC tag.
Combine flour, spices, soda, powder, and salt.
In a separate bowl bland pumpkin, eggs, and juice concentrate completely.
Add dry ingredients to wet until they are just moistened. Do not over mix.
In a blender or food processor, blend filling ingredients together thoroughly. This is easier if they are allowed to come to room temperature first.
Fill 1/3 of muffin cups or tins with muffin batter. Spoon a layer of filling on top. Finish with another layer of muffin batter so that cups are just about full. Bake at 350 degrees for 25-30 minutes.
Alternative Preparation: Get a complete fat free muffin by skipping the filling and adding ½ cup of raisins to the mix for a chewy, slightly sweeter muffin.