No Stuffing Cheesy Stuffed Mushrooms
BecR2400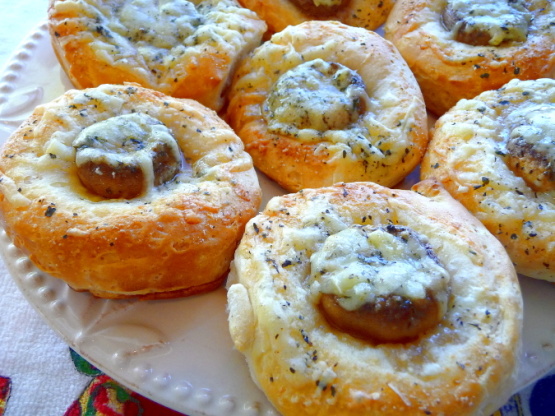 These are a nice easy appetizer, simple store bought biscuits, cremini mushrooms and then stuffed with cheese and baked. It is the easiest dish around and always a show stopper and so good. Just gooey and the perfect flavor it can't get much easier. If you want mozzarella and parmesan or swiss and monterey jack, that is fine. You can use any of your favorite cheeses for this.

They were nice. Best if served hot. Once they cooled off they were just ok. Easy to make that is a big plus. Thanks.
Cheese -- Mix the seasoning, salt and pepper with the grated cheese.
Mushrooms -- Put them all on a paper plate and microwave for 1 minute, just whole will the stems removed, open side up. Just to get a head start in cooking.
Biscuits -- Lay out all the biscuits and make an indentation with a pill bottle or shot glass just in the center. Not all the way down through the bottom, just and indentation where you will insert the mushroom.
Stuff -- Insert each mushroom into the biscuit and press down well so it fits right inside the biscuit (open side up). Brush the biscuit with the olive oil and then stuff the inside of the mushroom with the cheese mixture. And a little more right on top. Depending on the size of your mushrooms you may need a little more or less cheese. That amount usually works well for me.
Bake -- according to directions. One brand said 375, another 400. I like to use 375 on a cookie sheet lined with parchment paper until the rolls are good and toasty brown and the cheese is melted. Usually 12-17 minutes. Then just enjoy!