No-Peek Oriental Foil-Wrapped Chicken
DuChick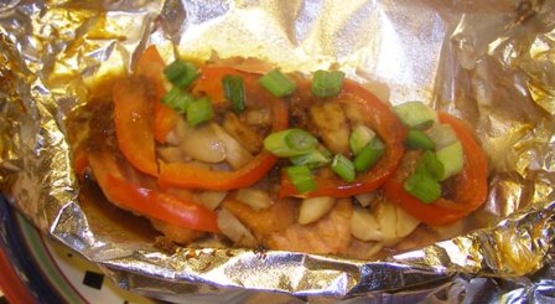 Another low fat meal that is only 4 points without rice.

This is a hidden treasure on 'Zaar! Hidden in foil with a yummy sauce and colorful veggies! I made two small changes--I used fresh carrots and pre-cooked them to avoid the crunch--I also doubled the garlic just because I could. This was excellent baked in my oven and I'm looking forward to grilling it outside in warmer weather. I served brown rice and peas for a very pretty and healthy plate of food. Thanks Audrey M! *Reviewed for 2008 All New Recipezaar Cooking Game.
Heat oven to 425 degrees.
Run carrots under cold water to thaw.
Drain well.
Rinse chicken; pat dry.
Place one chicken breast half in the center of an 18x12" piece of heavy foil.
Repeat with remaining chicken and three additional foil pieces.
Divide carrots, mushrooms, and sweet pepper strips evenly among foil pieces.
Stir together hoisin sauce, garlic, ginger, and ground red pepper.
Drizzle over chicken and vegetables.
Bring up two opposite sides of foil and seal with a double fold.
Fold remaining ends to completely enclose the chicken and vegetables, leaving space for steam to build.
Repeat with each foil packet.
Place on a 15x10x1" baking pan.
Bake for 30 minutes or till chicken is tender and no longer pink.
To serve, carefully open foil packets.
Sprinkle with green onion.
If desired,serve over rice.
Spoon some of the cooking juices over all.
This recipe can also be placed on your grill.
Cook for 20- 30 minutes depending on how hot your grill is.