No Pasta, Crunchy, Spaghetti
ladypit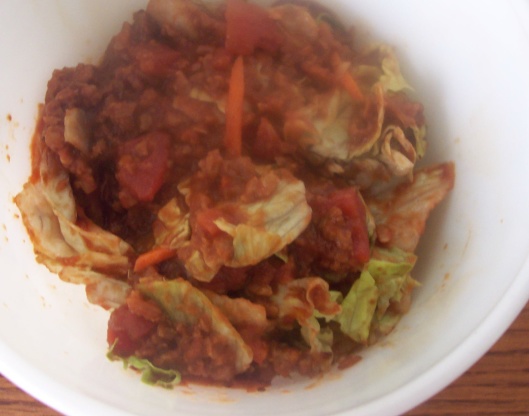 A Great Way to Have Your Children Eat Their Veggies! Simple and Fast!
Top Review by Ilysse
I'm not rating this because I would never make a dish with jarred sauce. However, I do love greens with meat sauce (gravy) over them. Arugula is great as is spinach, endive, etc. I tend to like more of a bitter green. Also try escarole stir fried in a little olive oil and garlic.
In a skillet, brown the ground turkey,.
Heat the spaghetti sauce and add turkey.
Make an Iceberg Salad with your favorite ingredients AND Italian (vinegar/oil) dressing.
Toss the salad into the spaghetti sauce.
Heat the sauce some more and serve medium hot.
Yummy!