No-Nonsense Chuck Eye Steak
ggrieser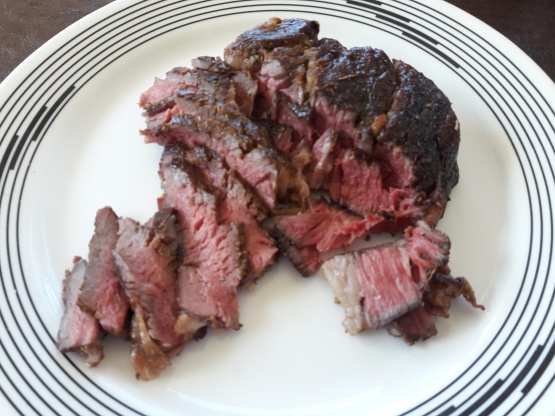 Asking for a Chuck Eye Steak is like acknowledging membership in a secret society. You are greeted with a knowing smile, a nod of the head, and then just maybe two will emerge from some quiet corner. There are only a couple in each animal, and although they have a taste and tenderness of the more popular rib eye, the cost is considerably less. Please... only tell your favorite buddy.

A friend told me about Chuck Eye Steaks, and now thats all I buy. I try to get a package around 1 pound or over. I put a little oil in a screaming hot cast iron skillet. Put in the steak and let it release itself, it knows when to be turned over, then I pop it in a hot oven for a few minutes. I like my steak med-rare. After it comes out of the oven I put a little salt, pepper, and garlic powder. LOVE IT!!!!Serve with a baked potato with sour cream and butter. YUM
Cover both sides of the steak, first with the salt, followed by the pepper, and finally the olive oil.
Cook on an outdoor grill, or a hot cast iron pan, for 5 minutes per side.
Allow to rest for an additional 3 minutes on the plate. Enjoy.