Laura C.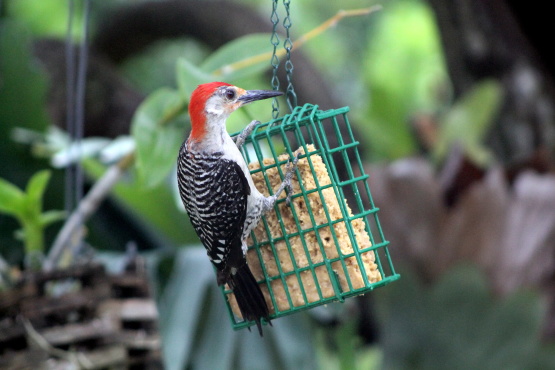 This is a tried and true suet recipe that I found in Birds and Blooms Extra, contributed by Virginia Barnard. She explains that it works very well in Oklahoma's high summer temperatures. We live in Wisconsin, where it obviously isn't quite as hot, but it has held up here, even in direct sun. The squirrels like it too, but now that we're offering other food for them, a little ways away, they aren't bothering it as much as they were at first. The recipe is written for lard, but I used saved bacon grease and it has worked fine. The next time I make it, I'm going to experiment with less or none of the sugar, as it doesn't seem necessary. But, I guess maybe the birds could have a little sweet tooth, too! Note: yield is approximate. I doubled the batch last time I made it, and filled 2 quart ziplock containers after putting some in a feeder, so I'm not exactly sure how much I started out with.

I have used this recipe for years with great success, usually adding raisins and nuts and/or seeds. I use the plastic containers saved from commercial cakes of suet as molds. I spoon the slightly cooled mixture into the molds, smooth the tops, and place in the freezer. Once they have set up, I pop them out of the plastic molds, wrap them in plastic wrap, and store them in the freezer till needed. That leaves the empty molds ready for my next batch. It will make 4 of these suet cakes per recipe. As mentioned, it will not melt even in our Alabama summers that often reach 100 degrees for days in a row.
Melt the lard and peanut butter together, either on the stove or in the microwave.
Combine all of the dry ingredients.
Add the dry ingredients to the melted fats.
The original recipe suggests pouring into a square pan about 2 inches deep, or spreading onto tree limbs. I just put it into ziplock containers and scoop it out as needed to fill a screen type of feeder (See photos). I use my cookie scoop to take it out, but then mash and break up the scoops, because otherwise the squirrels can come and take a whole scoop at once, way too easily! I don't know if it would hold up well in cake form, as I haven't tried that, but it defintely doesn't melt or make a gloppy mess.