No-Knead Whole Wheat Bread
LizAnn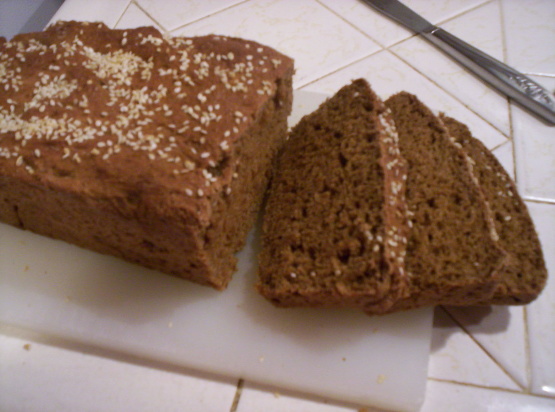 "From County Cork, Ireland" from Jane Kinderlehrer's the Art of Cooking with Love and Wheat Germ (and Other Natural Foods). I am editing the instructions because I made this today and see that they're really weird. Preheat the oven, then make the dough and let it rise for an hour? I don't think so. Also, today I was standing at the health food store thinking, "wheat germ...I think I wanted that for something...oh well." And I didn't get it. So I made the bread with King Arthur's White Whole Wheat Flour and no wheat germ or sesame seeds. It is soooo good. I also cooked it at 350 for 50 minutes along with Melody Ashcraft's Grandma's Meatloaf, and it turned out fine. (Does anyone know if you really have to warm the flour up for 20 minutes? Thanks.)

Top Review by LizAnn
A healthy, no-knead, bread that is this easy, and taste this good, definately deserves five stars. Here is how I made it: I mixed all the liquids together in a large mixing bowl (the water = 2 2/3 cups). In a smaller bowl I used King Arthurs 100% stone ground ww flour, warmed it in the oven about 8 min, then mixed in "instant" yeast, wheat germ, 2 tsp. sea salt, . I dumped this into the liquid mixture and stired with a wooden spoon. I sprayed two 81/2 x 41/2 x 21/2 pans with canola spray and let them rise in warm oven 20 min. I baked them at 350 for 40 min and they turned out perfect! I will make these again!
Preheat oven to 250°F.
Sprinkle yeast over 2/3 cup lukewarm water and add honey. The yeast should proof.
Warm flour in a 250°F oven for about 20 minutes.
Combine molasses and 2/3 cup of lukewarm water and add to the yeast mixture.
Stir this into the flour.
Add salt, wheat germ, and 1 1/3 cups lukewarm water. The dough will be sticky.
Butter a 9"x5" loaf pan and turn the dough into the pan. No kneading is necessary. (When I next make this, I'm planning to divide it into 2 loaf pans because I think smaller, non-mushroom-shaped loaves will be easier and less crumb-y to cut. But if you do this, don't bake it for 50 minutes. That's too long. I'll edit again once I figure that time out.).
Sprinkle sesame seeds over the top.
Let rise to about 1/3 more. (45-60 minutes).
Preheat oven to 375°F.
Bake for 50 minutes until crust is brown.
Remove pan from oven and cool on rack for 10 minutes. Remove bread from pan and cool completely on rack.