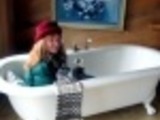 I have never had these fail. I'm always asked to bring these or make them for Thanksgiving or Christmas. They're always a big hit. They make a dozen good size rolls, I always double the recipe to make two dozen.
Directions
In a large bowl, combine yeast, 1 1/2 cups of warm water, sugar, melted butter that has cooled to warm and salt.
Stir in flour, it might not take the full 4 cups. I mix it in my food processor or mixer with dough hook. Cover bowl with plastic wrap and let rise in warm place till doubled, 45 minutes to an hour.
Punch dough down. On a floured surface divide dough into 12 equal rolls. Roll each piece into a ball, place into a large oiled baking dish, I double the recipe and put them all into a big 10/14 in pan or glass baking dish. Cover lightly and let rise until almost doubled.
Uncover and bake in a 400°F oven until golden, 15-18 minutes. Brush with butter.
Reviews
Most Helpful
These came out just right. I got to say that patience may be a key to making bread rolls. I have made some before but usually am in a hurry that something comes out wrong. This time I had so much time that they rose just like they had to even though it took longer for them to rise for me than the recipe states. Still, I followed all the steps just for the exception of the time as I just tweaked it a little bit giving it a little more time to rise. The dough was really good, and soft,fluffy and buttery once I placed the butter on top. Great keeper and I see now how easy it may be to make rolls without having to buy them.
These turned out great! I thought it would be so much harder to make dinner rolls! I would recommend increasing the salt to 1 1/4 teaspoons. I also didn't use the 1/3 cup melted butter, but brushed 2 tablespoons melted butter on before baking and another tablespoon on before serving. These make 12 pretty large rolls. The second time I made 24 smaller rolls. They reheat/crisp up again in the oven very nicely. I'm making these ahead of time for my family's Thanksgiving this year. Thank you! :)

This wasn't a bad recipe, it just didn't turn out the way I wanted it to so I must admit that I was a tad disappointed. The inside of the rolls were a bit too dense for a dinner roll and the outside didn't become the nice golden brown shown in the picture. The taste wasn't too bad but I felt it tasted closer to a biscuit than a light, fluffy dinner roll. I'd probably try this again to see if it wasn't operator failture or something. I followed the recipe to a T with no variations.
Thanksgiving Tips & Ideas >