No Kernel Caramel Puff Popcorn
2Bleu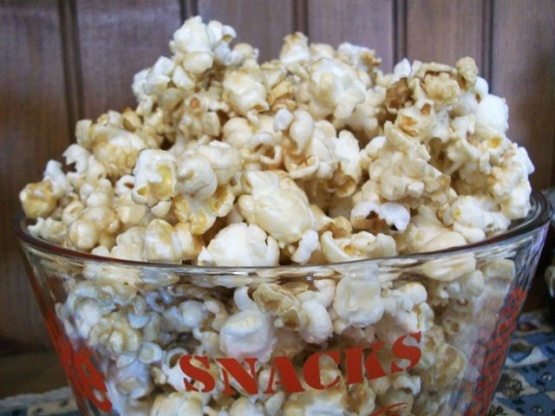 This is a delicious and easy recipe. My Aunt makes it every year for Christmas. It is easy and very very addicting. Make sure you have a large container for mixing and storage! Enjoy!!

great addition to the holiday cookie tray. loved the caramel taste without using much butter
Heat brown sugar, butter, and syrup on the stove and bring to a boil.
Boil for 2 minutes and remove from heat.
Stir in the baking soda and vanilla and dissolve.
In a separate large bowl mix the puff corn and the stove mixture.
Pour on a large cookie sheet.
Put in a 250 degree oven for 10 minute.
Stir it and bake for another 10 minute.
Stir one more time and bake for another 10 minute.
Pour it onto wax paper and let it cool.
Pull apart if needed and enjoy!