Annacia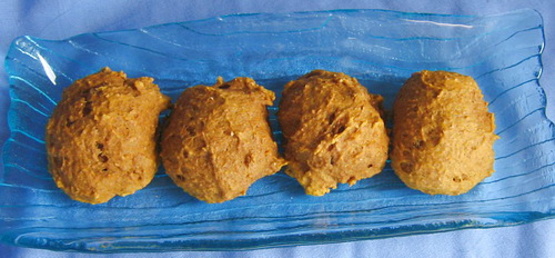 These moist yummy cookies are great for kids' lunches, afterschool snacks or just for having on hand for your sweet cravings. If you don't have pumpkin, you can use cooked, pureed squash. They freeze beautifully so make a double or triple batch!

SO GOOD!!! I have made a lot of pumpkin treats this fall and these turned out to be my favorite...I was a bit surprised because the recipe is so simple... :) I made them Halloween day in between "Tricks & Treats"...I halved the recipe because of time and supply crunch...I wanted to use up some already opened canned pumpkin in the fridge and it was about 1/2 of a cup...the recipe worked wonderfully (1/2 cup margarine, 1/4 Splenda & 1/4 Splenda brown sugar blend and a couple of table spoons of Egg Beaters...) I loved the addition of the ground flax seed...it lent just the right amount of sweet nuttiness and added to the airy texture...these bake into lovely moist pumpkin puffs (pretty substantial in size)...just wonderful :) This has been my most successful experience baking with Splenda (oh- I did get 30 perfect little treats with the 1/2 batch!!!) - Thanks Auntie Mags :)
Preheat oven to 350 degrees.
In large bowl, beat sugars and margarine until light and fluffy.
Add pumpkin, vanilla, and egg; blend well.
Add dry ingredients and mix well.
Drop dough by rounded teaspoonfuls 2 inches apart on ungreased cookie sheets.
Bake at 350 degrees for 10-12 minutes or until light golden brown around the edges.