JustJanS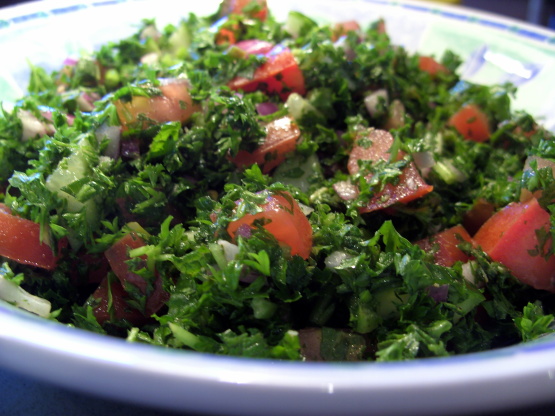 I am getting off grains, and therefore am coming up with no-grain recipes. If you wish, you could add a little cooked, drained quinoa, or try soaking the quinoa instead of cooking. I use about 12-15 parts parsley to 1 part mint. The amounts are approximate and should be adjusted to taste.

Grains aren't a problem for us, but I was didn't want to overload on carbs as we were also having chickpeas and flatbread for dinner. I went looking for a recipe to make use our mint and parsley growing in the garden (and could make this 10 times more and still have plenty left growing!). This was light and bright and so healthy and delicious it will get made again. Thanks for posting a great recipe.
Place everything in a salad bowl and toss gently.
Taste and adjust seasoning.
Chill for at least one hour to blend the flavors.