No-Flour No-Sugar Oat Walnut Fruit Muffins
Ungula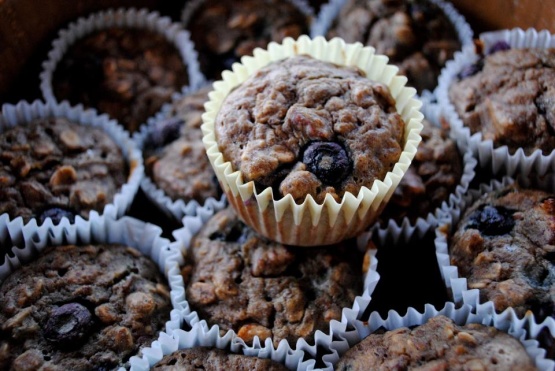 This recipe is adapted from a friend's--it makes hearty, moist muffins that are good for South Beach Phase 2 because they have no refined carbs or sugar--just oats, oat bran, flax seed, and walnuts. I make them for my partner who has high cholesterol. The flax seed substitutes for oil/butter and also makes them really fluffy; for SB you can substitute fresh/frozen blueberries or cranberries for the craisins. Note: These are NOT SWEET--they are more like a walnut-fruit bread than a sweet muffin, we prefer this. You can make them sweeter by using vanilla soy milk, but that adds sugar to this no-sugar delight. The fruit is also optional--I've made them with just walnuts and they are still delicious. Enjoy!

This is just up my street, I like the fact that they are not sweet at all. They are very dense but not heavy or gooey. I used the applesauce rather than the banana, I like apples better, and I cut the recipe by half, other than that I followed the recipe. I really liked these and I will be making them again. Very healthy and good for my diabetic diet. Thank you for posting. Made for Healthy choices ABC tag game 2011.
Preheat oven to 350 degrees.
Grease a 12 cup muffin tin.
Mix the wet ingredients together in a small bowl.
Mix all the dry ingredients (except the fruit) together in a larger bowl.
Add the wet ingredients to the dry ingredients, mix well.
Add the dried or fresh/frozen berries, if desired.
Spoon into the muffin tin--fill each cup about 3/4 of the way up.
Bake 18-20 minutes.
Let cool 2 minutes in the pan, then cool completely on rack.
Muffins can be frozen and thawed if you aren't going to eat them right away.