No Fat, Raisin, Cinnamon Bagel Spread
Make your own bagel spread instead of buying it at a craft fair. It's also good without the raisins using no fat cream cheese. I put it on mini bagels for breakfast, it also tastes good on English muffins or toast. It's a sweet treat and you would never know it has no fat cream cheese. I like it very sweet but you can use less sugar. Add sugar a little at a time and taste it before you add the raisins. Remember the raisins sweeten it also.
Directions
Leave cream cheese out for at least a half hour or until soft.
Put the raisins in hot tap water for 10 minutes or so to plump them up.
Drain water and dry them with paper towels.
Whip cream cheese, sugar and cinnamon with a mixer until fluffy.
Fold raisins in until combined.
Enjoy on your bagel after it chills in the refrigerator.
Reviews
Most Helpful
I have been making this for years since I worked near a bagel shop that served something similar. This works very well with the whipped cream cheese spread too - just blend it all with a fork I love love love this recipe! Thanks for posting!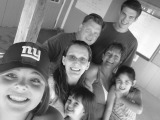 I have been making this for several years,I just didn't have exact measurements.It is a very good topping for bagels.My fav is to put it on toasted onion bagels,sounds weird but the combo is awesome.Thanx for sharing!!!