lets.eat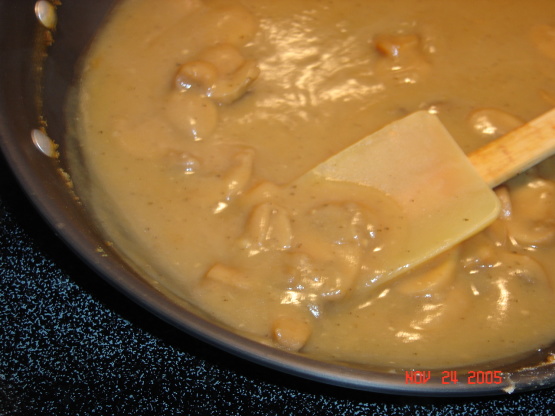 This is a very easy and quick NO FAT gravy to make. No fuss and you do not have to worry about the gravy going lumpy. I developed this recipe almost 20 years ago using my homemade chicken broth or vegetable broth.

This recipe is a Godsend to me - most bought gravies are loaded with salt. I was able to reduce the sodium even more by using reduced sodium broth. Sometimes I make homemade beef broth, so I'll use that to try making a beef gravy with this recipe.
In a large frying pan, add broth, mushrooms and liquid and bring to boil.
Add pepper, garlic powder, chicken soup base, soy sauce and Worcestershire sauce, stir to blend.
While still at boil, add potato flakes stirring constantly until gravy thickens to a desired consistency.
Use additional instant potato flakes if gravy is too thin.
If gravy gets too thick, add small amounts of water.
Adjust seasonings to taste.
If you desire a brown color, add a few drops of (Bovril, beef concentrate).
This gravy is excellent with roasts or chicken.