No Fail Easy Challah Egg Bread Bread Machine
petlover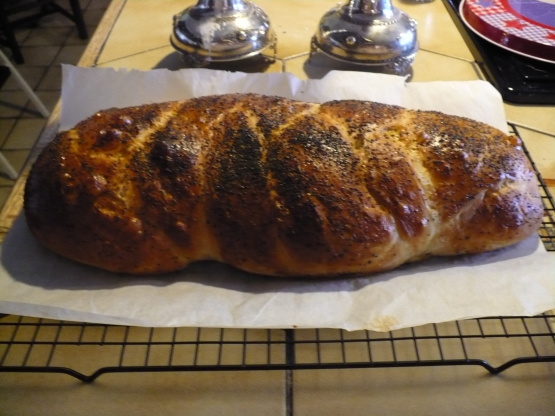 easist challah ever -- my bread machine has a quick dough cycle in which only one rise happens -- it is only used for quick yeast. time does not include rise time

I would like to try this one and it looks easy enough. I'll see how I do with it and submit my pic.
Place all ingredients ( except second egg and poppy seeds) in bread machine pan.
For dough cycle -- use 1 1/2 tsp yeast
For Quick Dough Cycle---.
( NOT QUICK BREAD) use 2 tsp quick yeast.
Run dough cycle and remove dough.
On floured board shape dough into 3 long rolled pieces.
Braid.
Put braid on cookie sheet lined with parchment paper.
Let rise at least 1 hour.
Beat egg and use paintbrush to paint challah braid.
Sprinkle poppy seeds.
Bake in preheated oven at 375 degrees 20 minutes or more ( until golden brown).
Cool.