No-Egg Hazelnut Ice Cream
BarbryT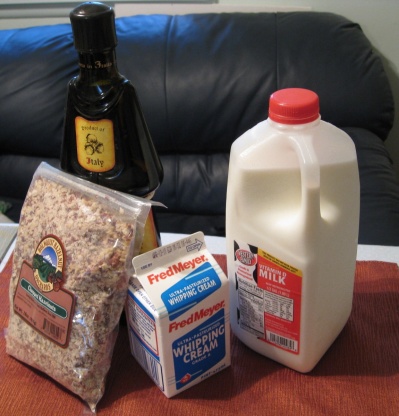 I love to make ice cream with my ice cream maker, but I hate the hassle of making a custard base with all the extra egg yolks and heating and cooling times. This is a quick, easy, healthier alternative to making a custard base, and I actually prefer it because it is tastes lighter. You can vary the additives--here I use hazelnut liqueur and hazelnuts, but I'll post some other versions that I particularly like. I use skim milk because that's what I usually have around, but milk with more fat will give it a richer texture/flavor.
Combine cream and milk in a large bowl. Add sugar and stir until dissolved.
Add hazelnut liqueur (here is where I would taste--add more liqueur or sugar to your liking).
Stir in chopped hazelnuts.
Add mixture to ice cream maker and process according to directions (takes 20-30 minutes in my ice cream maker). Freeze for 4 hours or overnight before serving.