NO Dough Pizza Low Carb Cream Cheese Pizza Crust
Rosann B.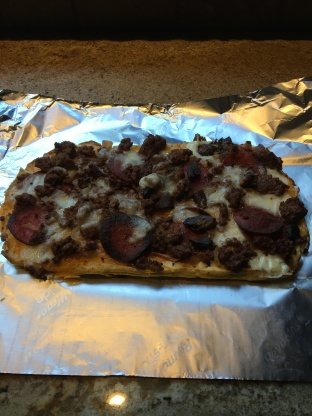 Low Carb The "Crust" is soft so this is actually more of a casserole dish but the flavor is there. I used Minced Garlic from a Jar rather than Garlic Powder. For the Pizza Sauce I used leftover Kittencal's Pizza Sauce Kittencal's Pizza Sauce that had been frozen after a previous pizza prep . This recipe was Posted On Facebook by a Friend of a Friend of a Friend!
Very good recipe for those who have to be gluten free. We do not make this often but have served it for a child's birthday party and the kids never realized it was not "regular crust"! That should tell you something.
Preheat oven to 375.
Line a 9×13 baking dish with parchment paper. With a handheld mixer, mix cream cheese, eggs, Italian seasoning, garlic powder and parmesan cheese until combined. Spread into baking dish. Bake for 25 minutes, or until golden brown. Allow crust to cool for 10 minutes.
Spread pizza sauce on crust. Top with cheese and toppings. Sprinkle pizza with garlic powder. Bake 10-15 minutes, until cheese is melted.