No Diet Peanut Butter Pie
alligirl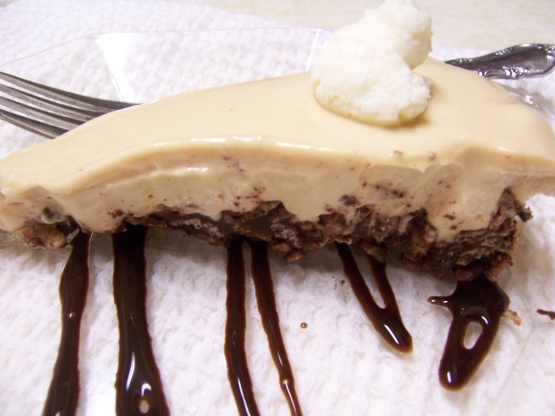 This is sooo good, but not for someone who is watching their calories. The original recipe said it makes a 9 inch pie, but I found the filling was way too much for that size and made it in a spring form pan. Bigger slices in the end, but not so much filling. You could of course make it in a pie plate if you wish too. Adapted from the back of Borden's sweetened condensed milk.

Wonderfully rich dessert, Lori! We loved it! I followed the recipe, as written, except I used a 10 inch springform pan. I think a 9 inch one would work as well. I'm not sure if I whipped my cream enough, but that didn't hinder the taste one bit! DS loved it too (of course!) and has asked for it a couple of times, tho I really don't want to share ;-) ! I'll definitely be making this pie again. Thanks for sharing with us, Lori Mama!
For the crust:.
Melt butter or margarine in saucepan along with the chips.
Add the rice cereal and mix to coat.
Press in a 11" spring form pan which has been sprayed with release coating.
Chill until firm.
Meanwhile:.
In a large mixing bowl, whip cream cheese until fluffy.
Beat in peanut butter and condensed milk until smooth.
Stir in vanilla and lemon juice.
Fold in whipped cream.
Turn into crust and chill until set, approximately 4 hours.
Refrigerate any leftovers.