Sageca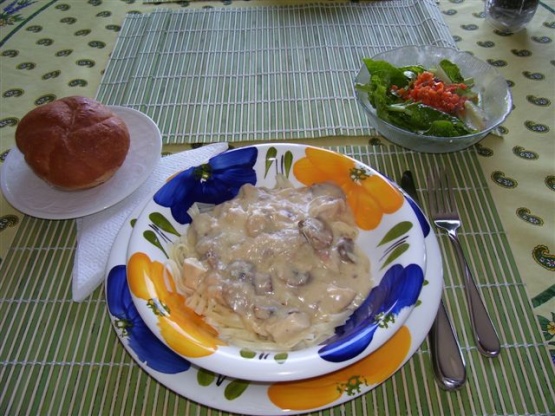 I make my alfredo sauce with evaporated milk from the pantry instead of fresh cream from the supermarket. My family enjoys this convenient and delicious sauce often. They claim to like it even better than restaurant alfredo sauce! I hope you'll also enjoy it.
I registered on this site simply because I needed to leave a review of this recipe. IT ROCKS!!! Fast, easily adjusted if needed, Goes with so many things.. I put mine on spaghetty squash and chicken. OMG I will never ever ever buy alfredo sauce again. I don't know who this Deb is.. but THANK YOU VERY VERY MUCH. It is a total hit with every one I feed it to.
Shake together powdered and evaporated milks; set aside.
Melt butter in medium saucepan; stir in flour to make a roux; cook until bubbly.
Gradually whisk evaporated milk into the roux; cook sauce over medium heat, stirring, until bubbly.
Reduce heat; add parmesan cheese and garlic salt; stir until melted.
Thin sauce to desired consistency by stirring in up to one half cup milk.
Add optional mushrooms and/or chicken pieces; heat through and serve over hot pasta.