Recipe from Good Housekeeping magazine. Healthy, simple, and delicious. Perfect for a hot summer evening.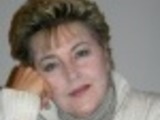 Wow! This is the first Thai recipe I've ever tried. It has a rather pungent fragrance, but is very light and refreshing. I made it exactly as written except I used regular fish sauce because I couldn't find less-sodium version even in the Asian market. It came out fine! Very nice combo of flavors and textures. We'll be eating this again! Thanks, Chef Romie. Made for Pick A Chef Spring 2008.
From limes, grate 1 tsp peel and squeeze 3 tbsp juice.
In small bowl, prepare dressing: combine peel and juice, fish sauce,and sugar; stir until sugar is dissolved.
In large bowl combine romaine salad mix, sliced cucumber, roast beef, cilantro, mint, and onion.
Add dressing to bowl and toss to combine. Divide salad among 4 dinner plates.