loof751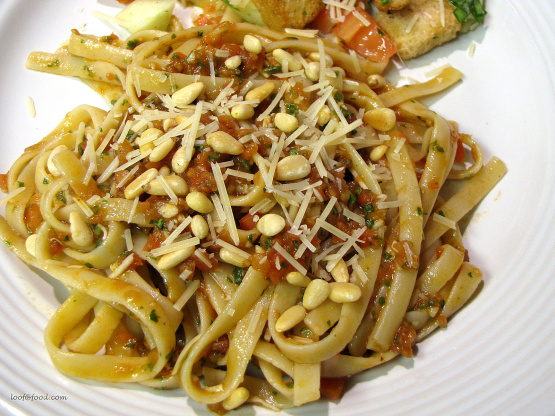 I found this recipe in a 2000 In Style magazine. We make this a LOT at my house in the hot weather. The only cooking you have to do is boiling water. You will need a food proccesor or a blender for this one. Delicious and healthy!

This pasta is so so good! Served it at room temp and just loved the fresh taste of the sauce - tangy and tomato-ey and loved the garlic and basil. The pine nuts were a great touch too. Made just as directed and wouldn't change a thing - thanks for sharing a keeper! Made for Spring Pick-A-Chef 2012
Start by toasting your pine nuts. Use a dry skillett and put pine nuts on over low heat. Do NOT move away from the pan because they can burn easily. Keep moving them around until they are golden and their aroma becomes strong. Remove from heat and set aside.
In a blender or bowl of food proccesor combine basil, garlic, vinegar, parsley, and lemon juice.
With the machine running slowly add olive oil until thick.
Add tomatoes and blend 5 seconds.
Place sauce in a large bowl and set aside.
Cook pasta according to directions on package, drain.
Optional; put back in hot pot and add a tablespoon of butter. Toss to coat.
Add pasta to sauce. Add cheese and toss. Sprinkle pine nuts on top.
Serve hot or at room temperature.