CoffeeB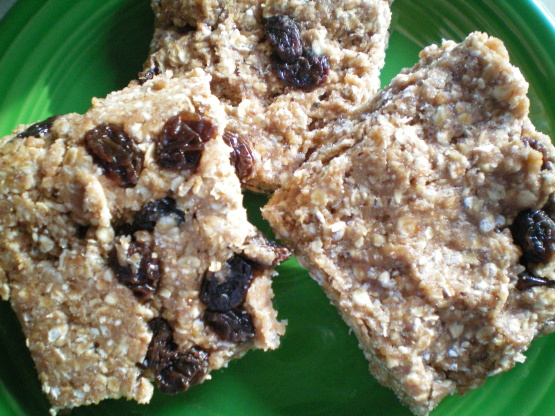 From "Recipes for a Six Pack" by Oxygen Magazine. Cook time is freezing time.

Top Review by J-Lynn
I give this recipe 3 stars for the wonderful ingredients, but the flavor is only just tolerable. We only had vanilla whey protein powder, so maybe the chocolate really adds a lot. I was pleased that this recipe had no added sweeteners, but next time I am going to have to try decreasing the water and adding some honey for flavor.
nonstick cooking spray
1 1⁄2 cups dry oatmeal

2

scoops chocolate whey protein powder

2

tablespoons flax seeds or 2 tablespoons hemp seeds, finely ground

1

cup powdered nonfat dry milk powder
1⁄2 cup natural-style peanut butter
1⁄2 cup water (more or less, depending on the protein powder)

1

teaspoon vanilla
1⁄2 cup raisins (or other dried fruit)
Spray an 8 x 8-inch square baking pan with nonstick cooking spray and set aside.
In a large bowl, combine the oatmeal, whey powder,flax seeds and nonfat dry milk; mix together.
In a separate bowl, whisk together the peanut butter,water and vanilla. Add the peanut butter mixture to the dry ingredients and stir to form a sticky dough. Stir or knead in the raisins.
Using wet hands or a rubber spatula sprayed with cooking spray, spread the mixture evenly into the prepared pan.
Freeze for one hour or refrigerate for several hours, until the mixture is firm enough to cut.
Cut into nine squares. Wrap individually and store in your refrigerator to grab on your way out the door.